COME JOIN THE FUN!
Wednesday nights are for enjoying your church family, face to face, with lots of opportunites to connect and grow together.
There is something for everyone, so take a look at what you would like to be a part of. Some programs have a nominal cost, but come check it out knowing the first visit is always free!
STARTING AGAIN JAN 9
SUNRISE COMMONS
Do you need a place just to sit, maybe have a conversation, read your Bible or get some work done? Wednesday nights the foyer is open for all adults with coffee and tables provided to meet your needs.
Leader: Jen Cole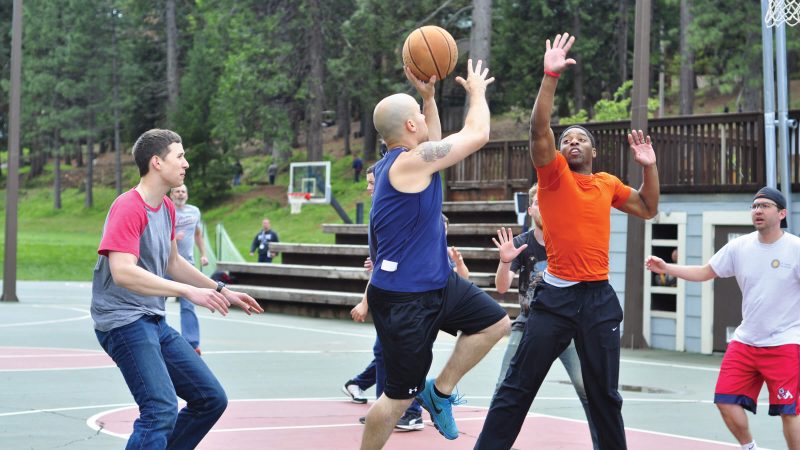 MEN'S BASKETBALL
***Now on Thursdays***
Put on your gym shorts and join us for some full-court basketball in the Worship Center. Early fall we play from 6:30-8:00 and once we get to know each other more we'll have some discussion group breakouts from 7:15-8:00
Leader: Phillip Brown
WEDNESDAY PRAYER
Prayer changes everything. Join us as we pray for each other, our church, our pastors, our city, our missionaries, and the work God is doing around the world. Meets in E109.
Leader: Randy Pelz
WOMEN'S ZUMBA
Enjoy a high cardio workout with a group of amazing ladies led by a certified fitness instructor. Meets in B201.
Leader: Jen Cole
WOMEN'S BIBLE STUDY
Dive deeper into the Word of God with about 12 other women. Meets in B204 and B212.
Leader: Anita Williams
MEN'S BIBLE STUDY
Join us for the 40 Days of Prayer Bible Study. We hang out together at 6:30 and start the video lesson at 7:00. Meets in B214.
Leader: Nat Rhodes
SUNRISE CHOIR REHEARSAL
The 75 voice Sunrise Choir is an energetic, welcoming community who rehearse and lead worship and songs of many styles in the first service and at special services and events. Meets in B209.
Leader: Rachel Jackson
YOUNG ADULTS
Our young adults group Rooted meets Wednesday nights. If you are out of High School, in college or a young professional we would love for you to come. Join us in the Youth Center from 8:30-10:00.
Leader: Mark Harris