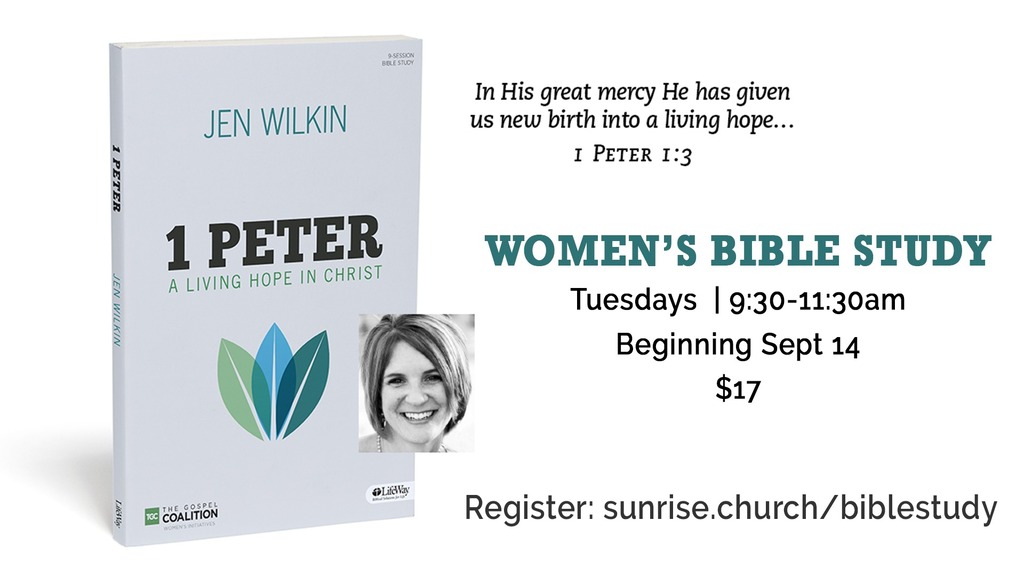 Women's Bible Study - 1 Peter
Every week on Tuesday until Feb 15, 2022 from 9:30a to 11:30a
Our inheritance through Christ is imperishable, undefiled, and unfading. In 1 Peter, a man of faith and flaws and eyewitness to the life of Christ challenges us to look beyond our current circumstances to a future inheritance. He shares his concerns on big picture issues for the early church, describes believers' true identity in Christ, and ultimately helps readers discover what it means to experience the Living Hope they have in Christ.
Location:
B-107 Classroom (32)
8321 Greenback Ln
Fair Oaks, CA 95628
Get Directions
Women's Retreat 2022
Sept 30-Oct 2  |  Mission Springs Camp
Keynote Speaker: Shadia Hrichi
Shadia is a passionate Bible teacher who has a heart for seeing lives transformed by the power of God's Word. She received an MA in Biblical and Theological Studies from Western Seminary, as well as an MA in Criminal Justice from the State University of New York.
Shadia is the author of several Bible studies including a study on Hagar that will be offered by one of our women's bible study groups this fall! Don't miss this opportunity to meet Shadia in person.  Currently residing in sunny California, Shadia loves to visit the ocean each week for "a date with Jesus."
REGISTRATION INSTRUCTIONS (keep these instructions handy while you register)
Click on the "register" button above to be directed to the Mission Springs website where you will find all the information you need to register.

Once you have reached the Mission Springs page, scroll down to REGISTER HERE.

Create an account for yourself only.  Every person must create their own account and pay individually.

Start application for PSWC Women's retreat.

Registration STEP 1: select people for registration – select yourself ONLY. (DO NOT CLICK "add/remove people" button as this does NOT indicate your roommate preference.  That comes next…)
Registration STEP 2: choose your session and room preference. Pay attention to the room descriptions before making your selection. *If you have a roommate, be sure you both register for the SAME housing option.
Registration STEP 3: fill out forms. On the roommate form, indicate your roommate preference.  On the household form provide your address, phone, etc.  *Make sure you scroll all the way down to the bottom of the form and complete the box that says "church" to indicate you are with Sunrise.  **If you require a special room accommodation or need a room on the GROUND FLOOR, please also indicate your need in this box (ie. Sunrise Community Church – ground floor room please)

Registration STEP 4 and 5: payment

Registration STEP 6: be sure to click the "view detail" button once you've submitted your registration. You can go back into your account at any time to make a change.